End of the season, last month of the year and all the joy, creativity, innovation, glamour around the fashion are eagerly looking for New Year. In this year fashion took many twists and turns and presented many innovative ideas from young and talented fashion designers around the world. December means we are celebrating happiness, we as a fashion agency helped many designers who are not only talented but have their own ways putting fashion in front of the world.
They have interoperated each and everything of their fashion creation during this entire year in their own unique styles. They took their imagination beyond usual embroideries, motifs, and other embellishment, instead they let their imaginations grow like a tree and giving equal importance to leaf branch and petals. They created greater significance and established their own signature styles.
Time and again young designers have proved their mettle as the channelled their inspiration through different dimensions of fashion. We were amazed by their renewed focus on each and every element of their creation. From subtle presence to extravagant elaboration they have done it all.
Audiences of each fashion show were thrilled and elated by the overall sensuousness, meticulous detailing efforts and element of surprise in their designs.
AltaRoma, London fashionweek, Kasta Morrely Fashion Week, Iasi, Romania and there is World Top Model Fashion Show in Monte Carlo Monaco we have our presence in each of them. There are of course many more which you can check from our website.
Promoting talented fashion designers is our main motto and we are continuously working, planning and delivering to fulfil it. We can build and promote fashion brand from the scratch. In this digital era you need to be proactive to make your fashion brand visible. There are many ways we can put your brand on the forefront.
Fashion is all about bringing flairs and flavours of life's shades and patterns in a new and innovative way. We have so many ways to put talented designers into the limelight. We also have our ways to put talented models, stylists into the track of success.
Social media promotion is just one part of our wide range of activities. All you have to do is to check our site and fill up the form to get the right kind of support and services at the right price. The year is not end yet and we are looking for more exciting opportunities that are waiting in the horizon.
For decades, the traditional seasonal calendar has served the industry well. Designers put their spring/summer collections on the catwalk in September and then showcase an autumn/winter drop six months later. While pre-fall and pre-spring collections have always been moneymakers for brands, the buzz has tended to exist around these two shows, where designers bring forward their ideas for a new season.
However, as the reality of the climate emergency sets in, you could argue that we're moving past the need for this traditional model; designers may no longer see fit to create under these same strict boundaries. During the most recent shows, we've seen unexpected products and trends for the season (boots in spring, lightweight coats in winter) and we've also seen designers move away from trends in favour of putting timeless pieces on the catwalk that play into the consumer's new desire for clothing that will serve them well for years to come.
"We have definitely noticed a shift in the way in which designers are approaching the traditional seasons," Rebecca Tinker, womenswear buyer at Selfridges tells us. "Collections are more seasonless than ever, as brands take more of a considered approach to the longevity of a collection. We have seen more classic silhouettes and less reliability on prints dominating the market. This is strongly resonating with our customers who seek pieces that they can keep in their wardrobe longer than a season."
At MyTheresa, fashion buying director Tiffany Hsu has noticed a similar movement: "We saw boots in spring, while during the winter shows, there were sleeveless coats and trenches instead of heavy wool outerwear, and short-sleeved knits in favor of the more traditional styles."
This has been happening for a few seasons, Libby Page, senior fashion market editor at Net-a-Porter, explains, and is something that they've intentionally bought into for the coming spring.
"There has been a more season less approach to fashion, as we're seeing pieces like boots, that would traditionally be worn only in winter, paired with midi dresses in the summer. Trench coats are also layered over thicker jumpers and under vests in the winter, making a traditionally spring item work all year. For spring/summer 2022, we will have over 50 options of turtlenecks, as they help transition from season to season and work as a great underpinning for all looks."
Natalie Kingham, fashion and buying director at Matches Fashion agrees: "I think designers are being more mindful, as they're conscious that their consumers are looking for more information about where their collections have come from, and they are also aware that their customers are wanting to invest in pieces that have longevity."
At Browns, head of womenswear buying Heather Gramston has noticed that these seasonless pieces have dominated on many catwalks, while her team has also found that many brands are turning to a more modern delivery model.
"Seasons are definitely not as clearly defined as they used to be in the past and we are continuing to see them blend together. This is partly as designers are starting to recognize the commercial benefit of offering customers the option of 'see now, buy now' pieces and readdressing delivery schedules. It was evident on the runways over the past two seasons, where trans-seasonal styles were at the forefront and layering has become the nouveau."
The idea of the 'see now, buy now' model is not brand new – Burberry unveiled this approach in 2016 and it soon became something of a trend in itself with the likes of Ralph Lauren, Tommy Hilfiger and Tom Ford following suit. But, while this initially focused on the idea of shopping straight from the catwalk, the approach now seems to be more about blurring the lines between the seasons.
"Brands are starting to think more and more about incorporating a 'see now, buy now' business model, which means that we often find outerwear, knits and heavier fabrics in both cruise and high summer," Page says. "On the flip side, Giambattista Valli's autumn/winter 2021 collection was filled with pastel pinks and floral details that would be traditionally reserved for spring."
And, while there have been some unexpected trends, perhaps an even more telling sign that we are moving past this seasonal model is the lack of so many obvious, 'one-hit-wonder' trends or novelty moments that now emerge from the catwalks. For spring/summer 2021, designers showed plenty of white, while for autumn/winter, classic black silhouettes dominated, with some major brands sending the first 10 looks down the catwalk, top-to-toe in the hue.
"I believe that designers organically create pieces that make noise, not necessarily designing with a particular trend in mind," Tinker says. "But, as a wider concept, they are much more conscious of the longevity of a purchase and design to cater for this. Over the past few seasons, we have seen that our customers are making more considered purchases, choosing to invest with a long-term view as opposed to on impulse. The modern woman now purchases to complement a capsule wardrobe and brands are aware of this, creating pieces that are an effortless addition to existing options."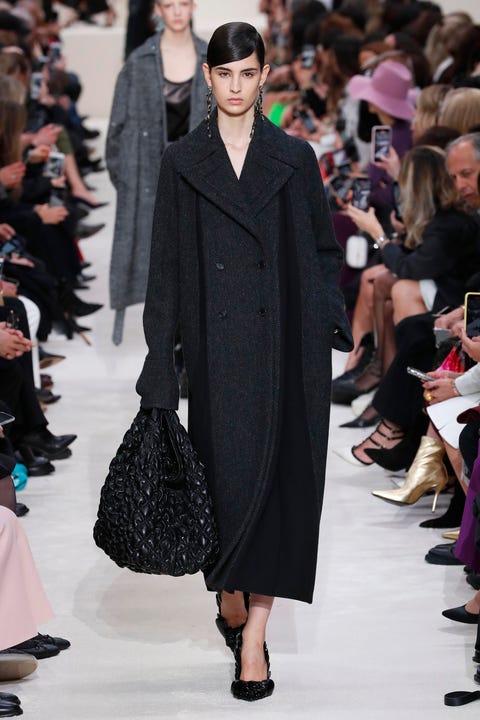 Elegant muted dressing at Valentino AW20ESTROPGETTY IMAGESADVERTISEMENT – CONTINUE READING BELOWRELATED STORYMugler unveils collection with star-studded show
"Spring/summer 2021 was one of the most wearable seasons that we've seen in recent years, as it was full of great wardrobing and pieces that will last through the seasons," Page adds. "There is a growing awareness – conscious consumption is more important than ever to consumers, which means that when it comes to fashion, the focus has slowly started to shift from quantity, to quality. Fewer, high-quality pieces that are loved and worn in multiple ways are now the preference as these pieces have a timelessness to them, that often make them seasonless. As a buyer, the approach now is less about the season and more about where in the world the product will be delivered so, in a way, we do have a less season-led approach to buying."
"People are no longer buying and planning their wardrobes season by season, which I do feel is an important consideration for customers as they look at buying less but buying better," Gramston says.
So, if there is a movement away from creating catwalk moments or seasonal trends – where a particular piece becomes immediately associated with a particular season or time, and therefore dates faster – what does this mean for the creative process for designers?ADVERTISEMENT – CONTINUE READING BELOW
"We have seen a shift away from 'trends' and designers are now embracing what their brands stand for," Gramston explains. "Take Gucci and Prada, who have most recently been referencing their brand's heritage and reinterpreting the past to create something new, such as Prada Sport. And then there are designers such as Christopher Kane, who are also evolving each collection as opposed to starting a new story each season."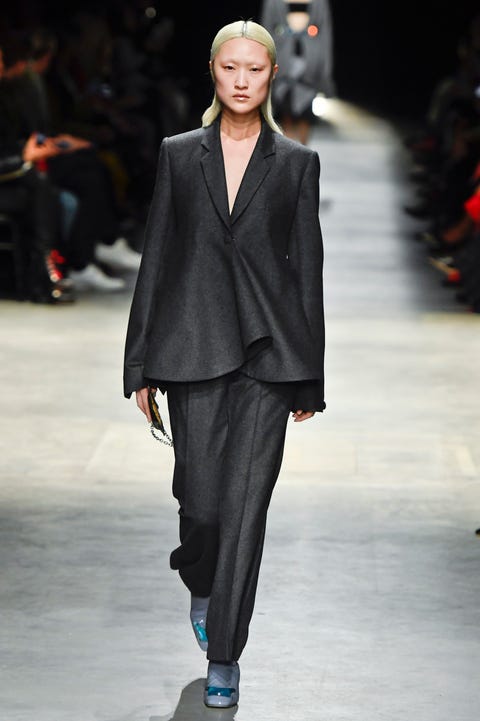 Christopher Kane AW20VICTOR VIRGILEGETTY IMAGESADVERTISEMENT – CONTINUE READING BELOW
Page agrees, arguing that there is a now a new way to be creative, designing for longevity while still managing to create that buzz around newness.
"Daniel Lee of Bottega Veneta is a good example of a designer who is using the codes and heritages of the house and translating them into modern and unique designs that are, at the same time, timeless. He pushes boundaries, while still managing to create a wardrobe of looks and accessories that include classic core pieces that can be worn in multiple ways, across the seasons."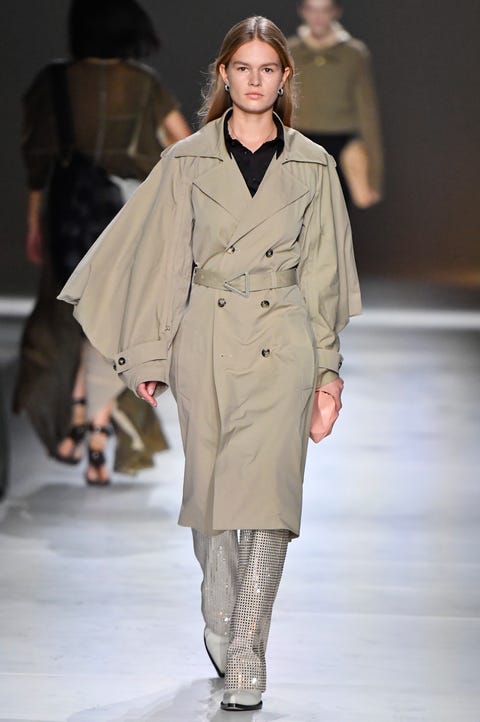 Bottega Veneta AW20VICTOR VIRGILEGETTY IMAGESADVERTISEMENT – CONTINUE READING BELOWRELATED STORYMatches Fashion launches The Responsible Edit
You could even argue that this less rigid structure actually allows designers to be more creative and to put out collections in a more authentic, organic way.
"Sustainability has allowed us to design the way we have always wanted to design," Amy Smilovic, founder of New York Fashion Week favourite Tibi, told us. "In the past, you had a merchandising team and a department store demanding that you create hundreds of styles, often so they could choose just a handful. I was always resistant to this but it was an exhausting argument. Now, there is no more argument. It's understood that it's the smart way to do things. And if you are going to be tight on your collection, when pieces can be worn across different continents and different seasons, it's even more imperative. I've always sold to Australia and to America in the same deliveries, so I've always had to have a strong eye towards seasonless."
In many ways, designers are gearing their collections towards no season at all in response to what consumers are now looking for – with exceptions of course (we haven't forgotten that opera gloves were all over the catwalks last month). And, much of this is a direct result of climate change and sustainability, but could a more global customer also have had an impact? Tinker thinks so.ADVERTISEMENT – CONTINUE READING BELOW
"We recognise there is a new level of global accessibility and this may play into why the seasonality element of a collection is no longer a priority. As a business with a huge international customer base, we understand that the European seasons don't necessarily reflect on the rest of the world and therefore we buy with this in mind."
Gramston agrees, arguing that online shopping has led to customers having the chance to get whatever they want at any point throughout the year, wherever in the world they are – for this reason, designers want to cater to it.
"As we become more global and have access to online shopping with brands shipping internationally, consumers are becoming used to being able to buy product all year round – from swim to outerwear – meaning that seasonality is blurred."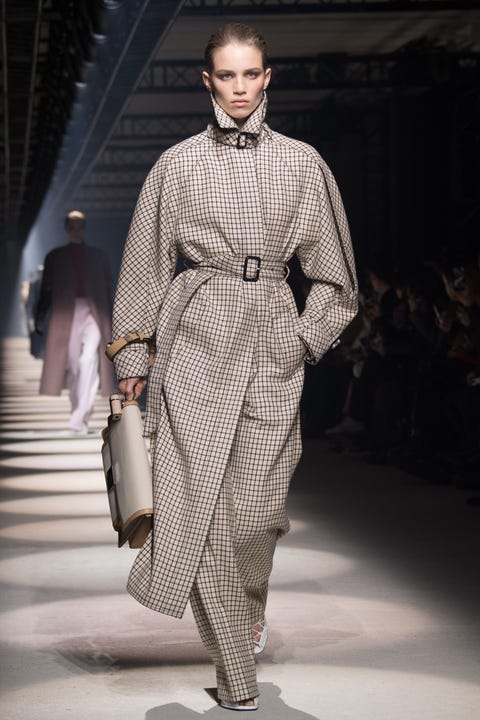 Givenchy autumn/winter 2020STEPHANE CARDINALE – CORBISGETTY IMAGES
What seems apparent is that, for a number of reasons, designers are gravitating towards putting timeless pieces on the catwalk, those that may traditionally have not had a place in that particular season. Consumers are looking for their wardrobes to work harder, to work year round, and are steering away from buying something to wear for only one season. In many ways, this presents a unique opportunity for designers where they are free to create under fewer restrictions.
It seems likely then that we will see a continuation of the movement towards seasonless collections, but will this eventually impact the actual seasonal show calendar? Well, that is another question in itself.
Top 10 Fashion Looks for New Years 2021
READ NEXT
New year's eve is the best night of the year where you can feel the glam and cover yourself up with shiny metallic and glittery outfits from head to toe, it is a great way to celebrate your accomplishments whether through work or any aspect of your life and letting go of all sadness and hard times. Unfortunately, December is all about cold and freezy weather what put you away from rocking your favorite V-neck sequins and high heels. But still, you can enjoy that night and wearing the most glamours and sleek new year's eve outfits while feeling warm and moving around as long as you like, all you need is pitching the perfect look and style to not look tacky or cheesy.
Trench Coat + Dark orange Stain Dress + Strap High Heels
Clean rather glamours outfit for the new year's eve, you can find any of these pieces in your closet to pitch a full look for any formal or festive party you are hiding too. Trench coats never go old, they're always trendy and stylish to give your allure an expensive easy glam.
Satin Quftan + Lace Black Dress + Black Heels
This Moroccan inspired look will make you stand out through the night crowd. Satin is a very simple and sleek way to get the simple shiny vibes of that night, if you don't like wearing bold metallic pieces you should go for that, you can match the quftan with any dress you have back there and style with sexy heels to give it a more pop outlook. This is one of the most flattering new year's outfits for cold weather, especially for a friend's party.
Black Midi Skirt + Black Blouse + Black Wool Coat + Fishnet Socks + Black Heels
Soak yourself in black and get the dark vibes while feeling warm and well put together, the fishnet socks will spice things a little bit while pleated skirt will create some movement. You can rock the look with a gorgeous hairstyle and beautiful earrings. If you're invited to a formal party, this might be a very suitable outfit for the event.
Black Suite + Mixed Fur Jacket + Metalic Booties
Another dark look for the new year's eve but what better than fur to feel warm and smacking it, Metalic Booties add another kick to the look so you can outstand between the crowd. This is a very suitable look for formal parties especially those ones connected to your work, you can replace the suite with a jumpsuit or long dress.
Leather Leggings + White Shirt + White Fur Jacket
If you don't like the combination of dresses, skirts and heels go for a casual but still perfect put-together look for whatever party you are heading to. Fur will give you a cozy rather expensive look while the white shirt and the leggings will make you comfy and rocking the party at the same time. Accessorize with rings and clutch to add some movements to the look. Don't forget standing out Booties to complete the allure.
Metallic Rose Pleated Midi Skirt + Gray Sweater + Pointed Strap Heels
Want to feel the party vibes and feel comfy go for one of the sleekest new year's eve outfits for cold weather with your favorite oversized sweater and pleated metallic skirt to feel the glam. Grap your strap heels and threw on some accessories like a shiny clutch and necklace.
Silver Belted Oversized Sequins + Over The Knee Boot
The best look if you want that shiny glittery look, oversized sequins with a belt to add an extra touch and over the knee boot will make you remember that night for years to come. NYE is the best night to show off, feel the joy, and have a great mood to end a great year and start a new spectacular one full of new accomplishments.
Sequin Mini Skirt + Leather Jacket + Camisole
Easy to ensemble NYE outfit, it is full of the party vibes and gives the warmth you need for a freezy foggy night. Match with a black choker and strap heels or over the knee velvety boots and complete the look with a clean and easy hairstyle.
Blush Top + Blush Velvet Pants + Blush Metallized Jacket
One of the most suitable new year's eve outfits for cold weather gives you stylish, sleek, and cozy look to enjoy the night. Accessorize with a golden clutch and dusty golden pep toed heels for the most flattering look of the night.
Marigold Long Sleeve Turtleneck + Velvet Gold Striped Wide Leg Trousers + Peep Toe Booties
Another velvety, warm and dreamy look for NYE, the gold and marigold form incredible match together topped with peep-toe booties with deep nail colors and some accessories.
Slit Front Pants + white Bell Sleeve Top + Pointed Black Ankle Booties
Like to stay away from the glitter and all that glam, but still want to enjoy calm and unforgettable NYE go for that simple look and through on a big popping out earrings to show off your beautiful face and give extra vibes to your allure.
Fashion Looks For this Season on Fashion.