Wow can you Believe that 2022 is here???
Now that the year 2021 is behind us, you may be interested in knowing what to look forward to in 2022.
Despite the COVID-19 pandemic dominating the news yet again last year and affecting many aspects of our day-to-day lives, causing much uncertainty, there are a still a few predictable events that we can probably count on happening.
Here's a look ahead at some of the news to be expected in the year 2022. PLATINUM JUBILEE
One of the first anticipated events of the year will be the start of Queen Elizabeth II's Platinum Jubilee year, which will begin Feb. 6.
The date marks the 70th anniversary of the 95-year-old's accession to the throne, which is already the longest tenure in Britain's history
Her health has been the subject of speculation since being admitted to hospital on Oct. 20 for medical tests. She was released the following day but cancelled many of her public engagements on the advice of doctors. She did not make an appearance again until Nov. 17. CANADIAN ELECTIONS
After the country went through a snap federal election last year, a number of provinces and cities will head to the polls again in 2022.
Most notably, the political futures of Ontario Premier Doug Ford and Quebec Premier François Legault will be determined on June 2 and Oct. 3, respectively.
Municipal elections are also set to be held this year across British Columbia, Manitoba, Ontario and Prince Edward Island, as well as parts of Saskatchewan and the Northwest Territories. WORLD OF SPORTS
Two of the largest sporting events in the world are scheduled for 2022.
First up will be the Winter Olympics in Beijing, which starts on Feb. 4. The Games are already mired in controversy. Canada, the U.S. and the U.K. declared a diplomatic boycott, citing human rights violations by the Chinese government. The boycott means no government officials from those countries will be in attendance but athletes will still be able to compete.
In addition, the Games will be without NHL players competing for hockey gold after they were restricted from participating due to the spread of COVID-19, which has already disrupted the league's schedule this season.
On Nov. 21, the men's World Cup will kick off in Qatar, and Canada is within striking distance of qualifying for the world's biggest football tournament for the first time since 1986. The team is currently sitting atop the CONCACAF qualifier standings, one point ahead of the U.S. and two points ahead of Mexico and Panama. The top three teams after the regional qualifying games, which end in late March, automatically gain entry to the World Cup, while the fourth-place team moves on to a playoff round. BLOCKBUSTER MOVIES
A number of highly anticipated screen releases are on the horizon.
Marvel will continue dishing out superhero flicks with "Dr. Strange in the Multiverse of Madness" slated to come out this spring, "Thor: Love and Thunder" during the summer and "Black Panther: Wakanda Forever" in the fall.
Sticking with the comics theme, Robert Pattinson as Bruce Wayne in "The Batman" is scheduled to be released in March.
"Fantastic Beasts: The Secrets of Dumbledore," the third chapter of the "Harry Potter" prequel series, is expected to hit theatres in April. Mads Mikkelsen replaces Johnny Depp as the villainous Gellert Grindelwald in the film after the "Pirates of the Caribbean" star was apparently asked to resign from the role following a lost libel suit against a U.K. tabloid that alleged he abused his ex-wife Amber Heard.
"Top Gun: Maverick" will see Tom Cruise reprise his role as high-flying fighter pilot Pete "Maverick" Mitchell in a sequel to the 1986 classic "Top Gun" in May.
Finally, after numerous delays over the years, James Cameron's "Avatar 2" is currently scheduled to be on tap in December. SPACE EXPLORATION
It may not yet be written in the stars, but one thing many scientists and astronomy enthusiasts are looking forward to this year are the first images transmitted back to Earth by the James Webb Space Telescope that was launched on Christmas Day.
It will take about six months for the highly sophisticated piece of machinery to reach its destination, 1.6 million kilometres away, and be ready to start scanning deep into the cosmos in search of galaxies formed early in the creation of the universe.
A number of space flight missions are expected in 2022, among the most highly anticipated are NASA's recently launched Double Asteroid Redirection Test as it crashes into a tiny asteroid moonlet on Sept. 26, as well as the Juno spacecraft making a pass close to Jupiter's moon Europa on Sept. 29. Several moon-related missions from a number of different space agencies are also anticipated in the coming year.
11 Trends to Look Forward to for 2022
From new ideas to the looks we're not ready to let go of yet, shop next year's best.
It's an interesting moment in fashion: We collectively exist somewhere between at-home loungewear and full-on party mode. That intersection calls for both high-shine and raver looks, as well as comfort-minded oversized silhouettes and athleisure finding its way into evening (hi, catsuits). Next year will be about bold bright bags that indicate a dose of optimism and little skirts and micro jackets that signal we are officially out of hiding.
Catsuits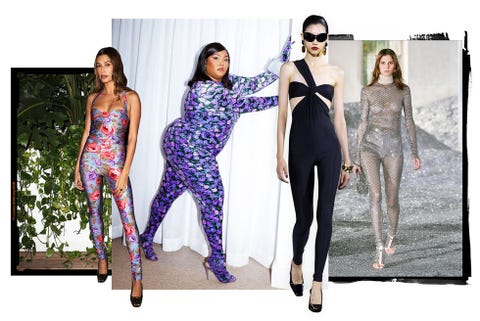 GETTY, BONNIE NICHOALDS
The catsuit is one of the year's most unexpected trends to emerge. But lest you relegate it to runway only (as seen multiple times on Saint Laurent's and at Burberry)—know that everyone from Hailey Bieber to Lizzo has already worn it out in the wild. It's like your favorite yoga one-piece got a sudden after-dark update.
CATSUITS
Chain Belts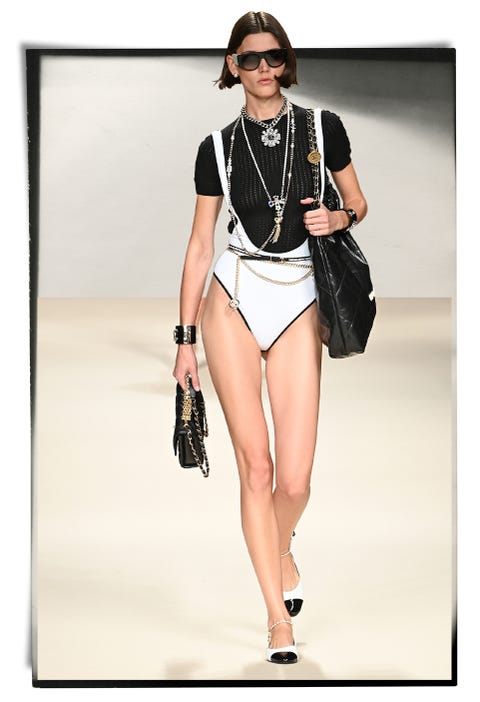 .
If you're picking up on a '90s/early aughts vibe overall, you're not wrong. Go all in with a chain belt or belly chain worn around a knit dress or directly above your navel. Designers are all about having a good time in 2022 if you are. Chanel is leading the look.
S CHAIN BELTS
Micro Blazers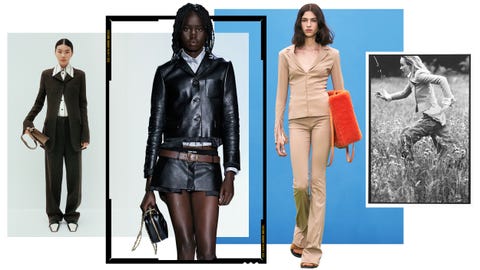 .
Jackets are becoming about the size of our collective patience for this endless pandemic. Read: very small. Lean into a leaner, more tailored silhouette, as at Proenza Schouler, Miu Miu, and Jacquemus. Paired with everything from slim pants to miniskirts, the micro blazer opens up a whole host of new styling opportunities.
MICRO BLAZERS
Big Jackets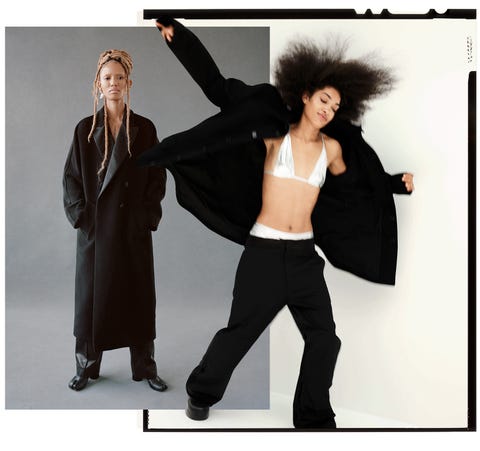 Tiny blazers not your vibe? Big, boxy jackets aren't going anywhere anytime soon. Executed best in black, they work well in tan and white too. Pair with denim, easy skirts, knit dresses, or coordinating pants—in other words, almost anything.
BIG JACKETS
Shiny Things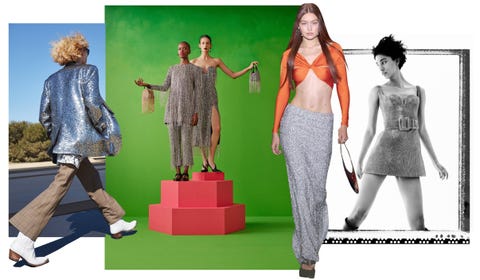 .
Don't hide your light under a barrel, ladies. Labels from Celine to Carolina Herrera and Coperni are embracing high shine. From maxi skirts to minidresses, these looks call for a dance floor moment—or five.
SHINY THINGS
Bright Bags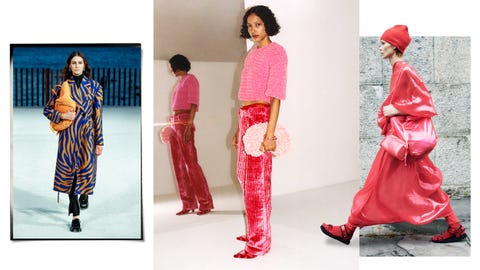 .
Bottega Veneta's bags retained up to 90 percent of their value in 2021, according to resale site Rebag's annual report. That includes babies in Bottega Veneta green and bolder and brighter iterations. The conclusion: Your handbag doesn't need to come in only black, brown, or tan. Embrace the rainbow from labels like The Row and Loewe, and indie brands like By Far.
BRIGHT BAGS
Miniskirts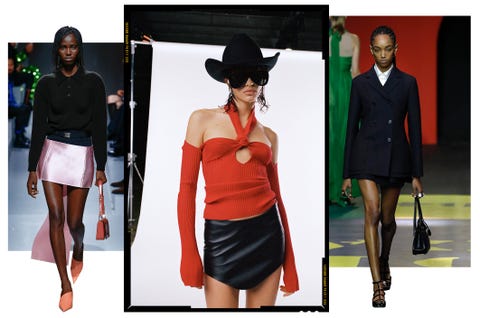 .
While the economy doesn't currently support that whole hemline index idea, why not put on a Miu Miu, Prada, Dior, or The Attico mini anyway? Showing a little leg can make anyone feel lighter, more playful, and rich.
MINISKIRTS
Oversized Shirts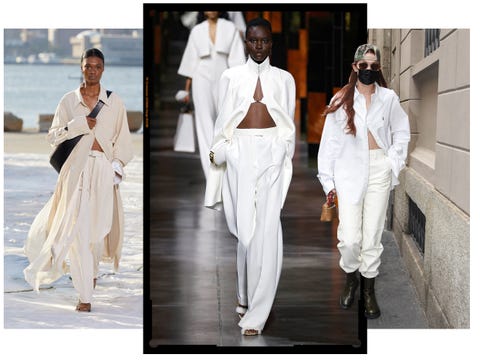 GETTY IMAGES
A new silhouette seems to have emerged, and it's as light and carefree as we want to be. The equation: a flowing oversized button-down, paired with flowing oversized trousers, buttoned insouciantly in the middle (as seen at Fendi and Peter Do and on Gigi Hadid).
OVERSIZED SHIRTS
Raver Style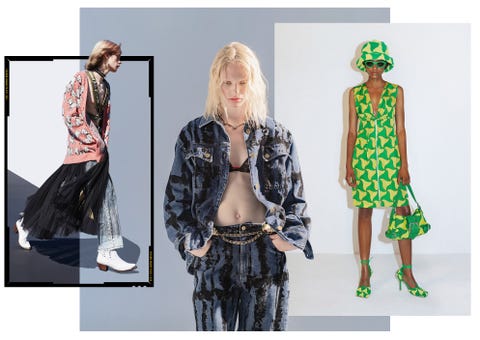 .
Put on some EDM and a bucket hat (but maybe keep your glow sticks at home), because life is a rave and everyone is invited. Pieces that speak volumes (from color to graphic elements) add up to every day looking a lot more fun.
RAVER STYLE
Low-Rise Pants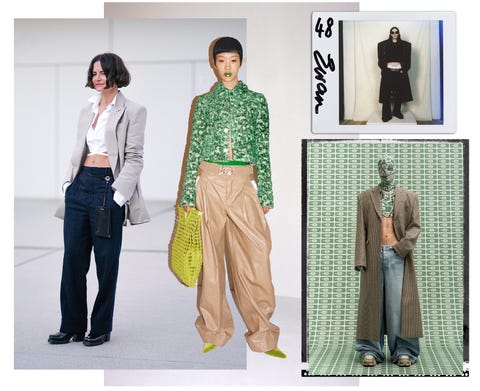 COURTESY
Don't let the term low rise trigger you. These are not your Britney Spears thong-revealing jeans (not that our Britney love doesn't run deep). In the current hands of Bottega Veneta, Vetements, and Balenciaga, trousers and denim are loose and sit coolly at the hips, revealing a banded logo underneath or just a hint of midriff.
LOW-RISE PANTS
Bra Tops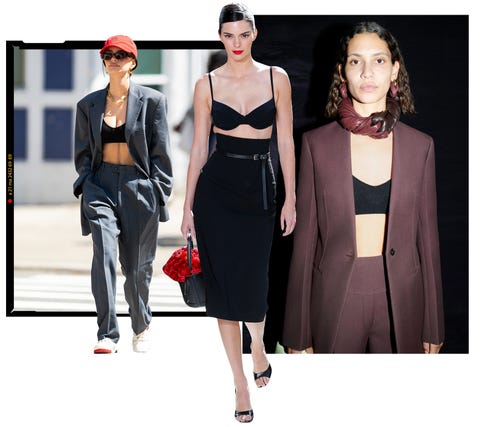 .
Whether office casual is getting very liberal at your current workplace, or you're ready to turn up your suit look for an evening out, a bra top is the best way to infuse a little modernity into your tailored separates. Try it with oversized suiting like Emily Ratajkowski, with a sleek pencil skirt as seen at Michael Kors, or paired with a somber shade à la Jil Sander.
BRA TOPS
"Work" Shoes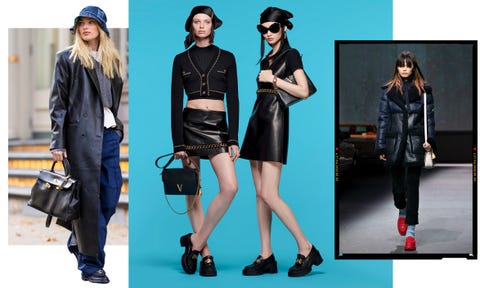 .
All the current oversized silhouettes, from baggy trousers to raver styles, call for a shoe with a little heft. The chunky loafer or lace-up lends a classic shape with just the right volume to balance the visual weight of your new low-rise trousers or ground your chic new mini.
"WORK" SHOES
The pandemic could end in 2022 — here's what 'normal' life might look like soon, according to medical experts
Almost two years into the Covid-19 pandemic, an end might finally be in sight.
Experts say that Covid will likely lose its "pandemic" status sometime in 2022, due largely to rising global vaccination rates and developments of antiviral Covid pills that could become more widespread next year.
Instead, the virus will likely become "endemic," eventually fading in severity and folding into the backdrop of regular, everyday life. Various strains of influenza have followed a similar pattern over the past century or more, from the Spanish flu pandemic of 1918 to the swine flu pandemic in 2009.
Covid will probably remain dangerous once the pandemic ends — much like the flu, which killed as many as 62,000 people in the U.S. between October 2019 and April 2020, according to the Centers for Disease Control and Prevention.
But barring any major developments, "normal" post-pandemic life could arrive soon. Here's what you can expect from the next year and beyond:
Covid could become much more seasonal
Once endemic, Covid won't dictate your daily decision-making as much, as billionaire health philanthropist Bill Gates described in his end-of-year blog post last week: "It won't be primary when deciding whether to work from the office or let your kids go to their soccer game or watch a movie in a theater."
Endemic illnesses are always circulating throughout parts of the world, but tend to cause milder illness because more people have immunity from past infection or vaccination. You might get a cough and sniffles, but if you're up-to-date on your vaccinations, you'll be protected enough to prevent severe illness or hospitalization.
Like other respiratory viruses, there will be times of year when Covid infections peak — most likely the colder fall and winter months, meaning Covid and flu seasons could regularly coincide going forward.
When sick, you'll be advised to keep wearing masks and staying home
If the virus does become more seasonal, wearing a mask on public transit and indoors during Covid season could become the norm — potentially even in offices, says Shaun Truelove, an infectious disease epidemiologist at Johns Hopkins Bloomberg School of Public Health and member of The Covid Scenario Modeling Hub, a team of researchers who make Covid projections.
Other familiar prevention strategies, like regularly washing your hands and maintaining distancing practices in high-risk settings, could also stick around.
"We don't necessarily have to come up with new interventions [to prevent Covid]," Dr. Timothy Brewer, a professor of epidemiology at the UCLA Fielding School of Public Health, told CNBC Make It last week. "It's just that we've got to do a better job continuing to do the things we know that work."
To that end, Truelove hopes people "take a little bit more personal responsibility and stay home when they're sick," he says. That could mean working from home if you're symptomatic but still able to work, or taking a sick day when you know you need to rest, he adds.
Covid tests could get more affordable and accessible
If you've ever waited in a long line to get a Covid test, or stressed about getting your results back in time for an event, you know firsthand how the country has been "hamstrung by the delays and challenges with getting PCR tests," Truelove says.
In early December, President Joe Biden announced a plan to require private insurance companies to cover the cost of rapid at-home Covid-19 tests. If you're one of the 150 million people in the U.S. with private health insurance, you could potentially one day get reimbursed for a Covid test that you buy at the drug store.
The plan is imperfect, experts say, because not everyone can afford to wait for reimbursement — and the responsibility would fall on consumers to figure out how to file a claim. At-home Covid tests approved by the Food and Drug Administration are widely available now, but the tests can cost upwards of $20 a pop.
Elsewhere around the world, you can get a rapid Covid test for free, a model that some experts say could be replicated in the U.S.
More kids will be able to get vaccinated against Covid
On November 2, children ages 5 to 11 finally became eligible to get the Covid vaccine. Seven million shots have been administered to those kids so far in December alone, CDC director Dr. Rochelle Walensky said during a press briefing Monday.
If you have children under age 5, you might wonder when vaccine eligibility will expand to those young children. Scientists are currently working on getting you an answer, by determining an appropriate dosage for the age group.
It's an important determination. Too high of a dosage could lead to unwanted side effects, while too low of a dosage won't effectively protect your child.
Pfizer anticipates having data on its Covid vaccine in this age group by the end of this year, and potentially getting federal authorization in early 2022. Moderna's researchers won't have enough comparable data to move forward until mid-January, Dr. Bill Hartman, a principal investigator for UW Health's KidCOVE Moderna pediatric vaccine trial, told TODAY last week.
Annual Covid boosters could become a reality
On Monday, Walensky touted boosters as the best available defense against the threat of new Covid variants like omicron. Currently, 27% of fully vaccinated people who are eligible for booster shots have gotten them, according to the CDC.
There's a chance you might need to get regular Covid boosters going forward. Some experts say that Covid vaccines could become an annual occurrence, similar to your flu shot.
This might be a good thing: If new Covid variants keep popping up, each year's booster can be specifically designed to fight whichever variant is dominant at the time.
But convincing people to follow through could prove challenging. It's hard enough to convince people to get their annual flu shots: During the last flu season before Covid, only 48% of American adults got a flu vaccine, according to the CDC.
The CDC currently recommends annual flu vaccinations for anyone 6 months or older.
"People in a pandemic can accept things," Ali Ellebedy, an associate professor of pathology and immunology at Washington University School of Medicine in St. Louis, told STAT on Wednesday. "But I think if you're talking about a regular vaccine that's not really needed because of a pandemic, I'm not sure if people would be more accepting of that."