Whats up Bellah's World Blog readers and fashion extraordinaire's! If you are neither of these we still welcome you because you obviously want information on the newest trends in Fashion, or you randomly cam across this on you google page and decided to give it a gander. Either way….Welcome All!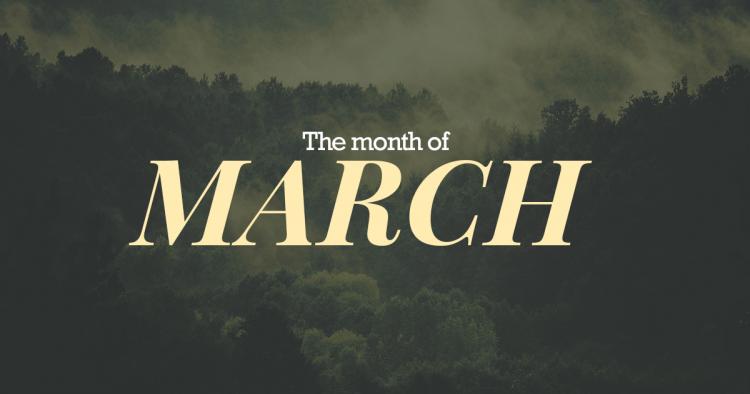 COLUMBIA INTERNATIONAL FASHION WEEK MARCH 23 – MARCH 27
I obviously did not post about March, so I am going to catch you up on what you missed out on locally and internationally, like I always do. One of the newest and biggest things that happened this month for the City of Columbia, SC was the first annual Columbia International Fashion Week. This was a week filled with interesting fashion from all over and from Columbia itself. It was a sold out show, and there were many fun filled events leading up the the Look Book Finale Fashion Show that was held on Saturday, March 27th.
March 23rd kicked of Columbia International Fashion Week with a Fashion Panel that was held online and in person. Of course, the COVID restrictions were followed to the letter for every event in order to keep people safe and healthy. There fashion consisted of four people who all are involved with the fashion world in different ways; Grace Cuffy (who own Cuffy designs), Stoi (who is another designers who owns The Stoi Company where customization pieces can be ordered), Laschaska Salmond (a walking coach and free lance model), and Macie-Lynn Shafer (model, assistant to Donna Anderson, and actress). The fashion panel was intense and many hard hitting fashion questions were asked from the latest fashion trends, to how to make it in this line of work, how to get men's fashion to strive outside social norms, and how do women continue to strive for positions of power that were previously male only and still dress like a woman. It was a very intriguing one hour long session. Many of the question came from not only the in person audience but also the audience who where in attendance through Facebook live. Seeing as how this was the first year for something like this, there is obviously room to improve and grow, but it was a great start for an extraordinary week of fashion and fun.
March 24th was the Come Get Styled event that was held in a boutique called Now & Then in downtown Columbia, SC. Naida Rutherford and Donna Anderson, two of the most well know fashion experts in Columbia, personally styled all who came to this event. People came in with high hopes, and left with smiles and purchases that will keep them in style for months to come. It was truly a fun event for all in attendance.
March 25th was the virtual fashion show by another local designer, Dope the Model, and her brand/ boutique called Bend the Trend. This was one of the designers who also happened to in the finale fashion show as well. Her clothing line is very fashion forward, and melds colors and patterns with the latest fashion designs. It fits all body types and makes any one look good. The models involved with this had a blast, and the virtual fashion show was a great success and a sneak peak for what was to be expected on the coming Saturday. The photoshoot that was also held turned out great photos that were able to be posted on their social media sites.
March 26th was the Model Meet & Greet with all the models, designers, and other important personnel` who wanted to be involved with this event. It was held at the Gold Den, which is a hookah lounge and bar that is for high end dinning and partying. It was a fun event with a lot of networking and the food was phenomenal. It was a great way to relax and get to know all the major players for the next day.
March 27th was the highly anticipated fashion event of the month and a great end to the first annual Columbia International Fashion Week, the Look Book Finale Fashion Show. The morning started out for all of us involved, myself included. Models, Makeup Artist, Hair Stylist, and many more had to be at the venue at 9 am to start getting ready and to start setting up the venue for the show itself. The layout of venue space was an old Old Navy store located at Columbia Place Mall in Columbia, SC and gave off a retro warehouse vibe. The seating arrangement was two single rows, one on each side of the runway, in a U shaped pattern, giving each person a perfect vantage point of the two entrances/exits where models would be coming onto and leaving the runway. The vendors were also popping! There were a variety of vendors from food, to wine, to even non perishable goods and clothing. The line up designers also ranged from Urban Street-wear to High Fashion Couture; Mrs. Tyga's Body Art (Show Opening), Bend the Trend, Melanie Caballero, Magnifique, The Stoi Company (Finale line), Tre's Custom Design Collections, Law & Lady Law Wealth Collection, Obsessions Fashion, The Yellow Butterfly Collection, House of La'Rue, and much more! There was even a live performance by Nicole Marie! Overall, this was a week of nothing but non-stop fashion fun. If you missed out, then you have to wait til next year.
Did I forget to mention that it was covered by the news? Because it was. It made fashion history, and so did it's owner Donna Anderson.
CHARLOTTE SEEN FASHION SHOW DAY
Another major fashion event that happened was the most anticipated show of Charlotte, NC, CHARLOTTE SEEN on Saturday, March 20th. CHARLOTTE SEEN is known for its high fashion couture shows, and I do mean shows. They have three shows in one day. The fashion ranges from Urban everyday wear to clothing that you see on Runways in major international shows. This year was no different. Out off all the three shows that I had the privilege of attending with the BellahLive Team from Bellah Modeling Agency, the second show of the day was my favorite. The them was retro/vintage decades, and boy did they represent. All the fashions were unique and eye catching. The models themselves ranged from young to old, and all ethnics were represented as well. The DJ also did an amazing job with the song selection, and everyone there was left impressed. One of my favorite collections included two amazing performers called TwinNation. These hip-hop performers were amazing, and they even recently performed at the Superbowl. I had the honor of following BellahLive around as they interviewed many models and personnel backstage. The talent that was there was just amazing. It was a great night.
MARCH 2021 HIGHLIGHTS
One highlight in the fashion industry from the month of March is the Louis Vuitton Men's Summer 2021 Collection. If you haven't seen the ads and video promos, then I urge you to go ahead and do so. 21 Savage was the featured model of this magnificent high fashion summer collection, and he did an amazing job modeling the attire. The new LV Men's Summer 2021 Collection is a Capsule collection which blends the energetic and artistic vibes of West Coast skaters and artists in perfect harmony. The focus of this collection is lightweight leather, embroidered shirts, and light denim. Some of the highlighted pieces of this collection is even eco-friendly. They are made out of eco-friendly cotton and wool without chlorine and chemical paints and dyes. The collection was launched in two parts: first the blue Ink Watercolour pieces and the secondly the Ink Multicolour design pieces.
Next, Salvatore Ferragamo launches a new virtual interactive games that allows people to explore Spring/Summer 2021 collection, and it is called Enigma. It allows people to get acquainted with the styles, brands, and other aspects of the company's fashions.
"Micaela le Divelec Lemmi, the company's CEO revealed that the effort intends to reach new generations, while it also ties in with the revamped website's intuitive browsing experience."
Another highlight from the month of March 2021 is on of my favorites and deals with Coach. Coach has recently entered into the embroidery business by offering it as a service with its Coach Forever new collection. So far they have partnered with Sheena Liam in Malaysia to produce embroidered products like the ones you see in the image above.
Now I know you are probably wondering why this is a huge deal. Embroidery is on many things that you buy today, and most clothing has some small embroidered pattern or detail that makes it stand out from other clothing pieces. But what you don't understand is that those are machine made, meaning that its embroidery but not really due to it being machine produced instead of individual produced by an actual person. Embroidery is actually a beautifully painful art and takes a large amount of time to learn and perfect.
There are only 5 of these embroidered bag total as of right now. They are beautiful and exclusive.
There is, however, more embroidery options for spring/summer collection and ready-to-wear collections coming soon.
This should not come as a shock, but it is a highlight from the past month. Kpop has become huge in America, there is no doubt about how these amazing international groups like BTS, Blackpink, Stray Kids, and other artists and groups are dominating the music charts. I mean just take how the BTS fans, referred to as ARMY, demolished the charts by religious playing BTS music and videos because they did not win a Grammy. (I myself happen to be a part of this fan base so I am partially to blame as well).
Therefore it should not come as a surprise that Kpop Idol Jisoo, from the famous girl Kpop group Blackpink, has become a new global ambassador for fashion and beauty. If we are honest, not only is international groups amazing when it comes to music, but Asian inspired street wear and fashion has also come to dominated the American Fashion Industry. Jisoo has inspired House of Dior's Maria Grazia Chiuri for the Dior Fall 2021 collection. Blinks, aka Blackpink fan base, keep an eye out for Jisoo-approved looks on the runway because they will be nothing short of inspiring!
Since I referenced the Grammy's earlier, of course I have to give my opinion on the fashions that showed up. Honestly, they were pretty impressive. Of course Billie Eilish came in a signature Eilish looking outfit, which she looked outstanding in, and even had a matching mask to wear. Noah Cyrus came in a stylish gown in a creme color with a cap effect that circled her face. The host of the Grammy's, which happens to be one of my favorite comedians and host of the Daily Show, Trevor Noah came in a stunning classic suit by Gucci with a magnificent Afro hair style. Though there were many amazing and intricately dressed celebrities, the Queen of of the Grammy's was none other than Doja Cat. She appeared in neon feathers and a moto-inspired look zipped all the way down. She rocked the look and left all of us wondering what show stopping ensemble she'll pull out for the next award show.
Alright! We took care of the highlights of March, and now its time to focus on the month of April! This month has just started, but there are some exciting things coming up locally and in internationally that must be talked about. We can't have you all left out of the loop.
COLUMBIA KIDS FASHION WEEKEND
First we will discuss a major event that happens in Columbia, SC every April, Columbia Kids Fashion Weekend! Every year, Donna Anderson host a kids fashion weekend where kids have photoshoots and get to rock the runway in the latest child fashion this side of the East Coast. This year it will be held April 24th-April 25th. If you have a kid that wants to be a part of this amazing fashion event, then be on the lookout so that yo can sign them up for it!
SPRING FASHION TRENDS
Lets talk about some of the most recent Spring Fashion Trends of 2021 that we have started to notice.
Bubblegum Pink has been dominating Instagram and spring themed fashions. If you are a lover of pink, then this Spring 2021 is for you, because its time to show off you Bubblegum pink outfits.
"It's not hard to see why this perky shade of pink is resonating right now. "I think everyone is ready to make a statement with their clothing after such a quiet year," our reader Ambika Dhir explained, and I feel that so hard. The whimsical color couldn't have come at a more perfect time, as neutrals dominated for several seasons and many of us are eager to dress up again. Aniyah Morinia agrees with this sentiment: "You're bound to turn heads and make every outing or errand a lot more fun and exciting when wearing this shade of pink.""
Another Spring 2021 fashion is none other than knit sets. I am confused on this one, but hey who am I to say no to this trend. Knit sets are becoming a thing on all shopping platforms. This is becoming a staple item that is a must for any fashionista or for those who are fashion enthusiasts. Its a quarantine trend that I think is here to stay. Especially with the weird change of weather from cold to hot.
""The perfect happy medium, they'll still look just as fantastic worn outside of the house as they do inside," Dhir described. Seeing as these knit sets are offered in a range of combinations for every occasion, mood, and season, they're here to stay, pandemic or not."
Now a personal favorite trend of mine that I can't wait to jump on is the baggy jeans trend. Baggy jeans with a cute fitted crop top or and over-sized t-shirt is just a comfy, and cute way to style these. The loose, lived-in style of these jeans are perfect for a relaxed and laid back Spring that we all our experiencing.
"I'm planning to wear them with an oversize blazer, white tee, and heels."

Who What Wear,  Renia Jaz
The last Spring 2021 trend that I will talk about is the chunky boot. That's right, the chunky boot is a stylish trend. Honestly, I do not hate them, and I can see the appeal of them when it comes to choosing them over other heeled boot options. Not only do they look comfortable, they look less hazardous that normal stiletto-ed heeled boots. I think its time we take a page out of the Goth, Emo, and Lolita style books and keep this trend around for a while.
"Nothing screams power and confidence quite like a pair of chunky boots."

Morina
APRIL HIGHLIGHTS TO LOOK FORWARD TOO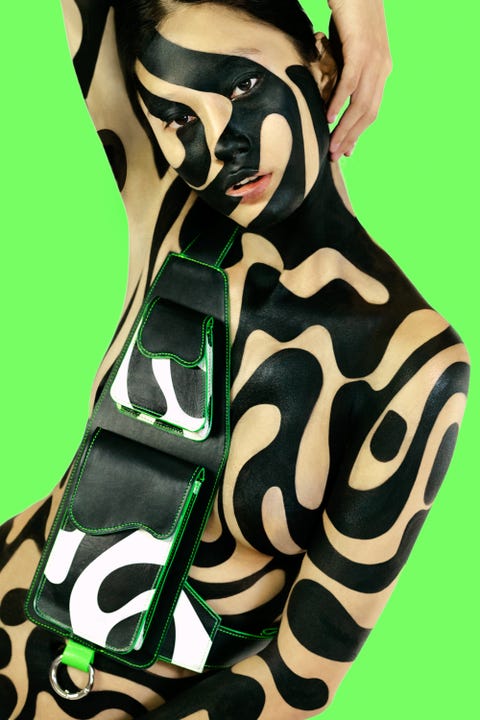 A company called Dan Cassab (a Mexican Leather Jacket Label) will be debuting their first line of accessories made in collaboration with artist Leta Sobierajski. This collab will focus on infusing the artist's vision with the already amazing leather production sustainability. The three post-modern patterns that Leta Sobierajski designed specifically for this collection are the Blob, Bolt, and Protozoa. You will be able to find then on crossbody bags, phone slings, and two different styled totes. A Mexico City artist even translated Leta's swirls and zigzags into body paint for the campaign and advertisement of this collection.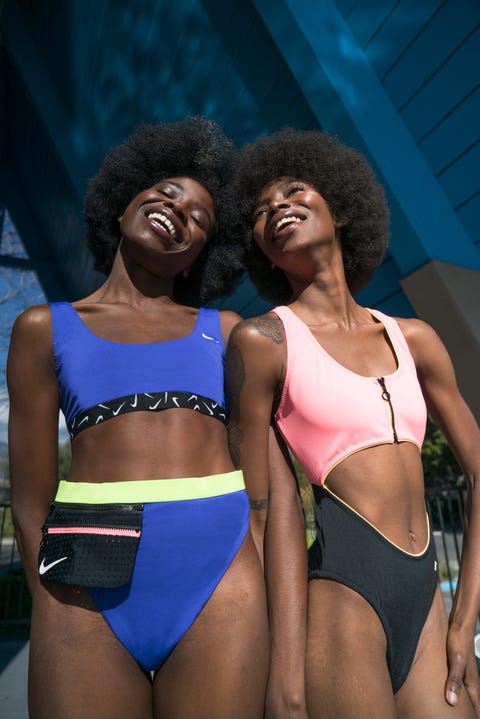 Nike is ready for a relaxed and sunny summer with the launching of their new line of both men and women swimwear. The range and variety of the swimwear is astounding, including not only one-pieces, but bikinis and minkinis as well. The suits are made out of premium jersey knit with 100% recycled lining and an 85% recycled outer jersey. You can find this collection in playful, vibrant colors and patterns. It a swim wear that looks good on the beach and on the streets.
Something to look forward to in the month of April in In-House. In-House is an e-commerce destination for celebrity. athlete, and taste maker brands and will be launched this month. This includes brands led by talents such as The Weekend. The founders of In-House are Rob Lubin, MArk Obuz, and Tucker Radecki. These three have worked for many companies in the fashion industry and noticed the lack or destinations where brands such as these can be found. So they created In-House in 2019, and now it will offer 15 brands to start, and expected to increase to two dozen by mid-April. In-House launched Smokepurpp's 6 Dead Bats brand exclusively in tandem with the artist's EP "Psycho (Legally Insane) on Feb. 10, and the collection sold out in one day. This is definitely something to check out!
"We want to make sure our partners are brands with one main tastemaker behind it," Obuz said. "We make sure that whoever we bring on has a story to tell."

Lubin added, "It's important to note that we're not trying to be about an influencer marketplace. It's really about fashion — brands built by a tastemaker but that stand on their own."

"A couple years ago, it was about these collaborations where a big brand supports a tastemaker," said Radecki, "but now tastemakers are doing things in their own way. Now people are bringing brands to life independently and it's up to us to bring them to mass."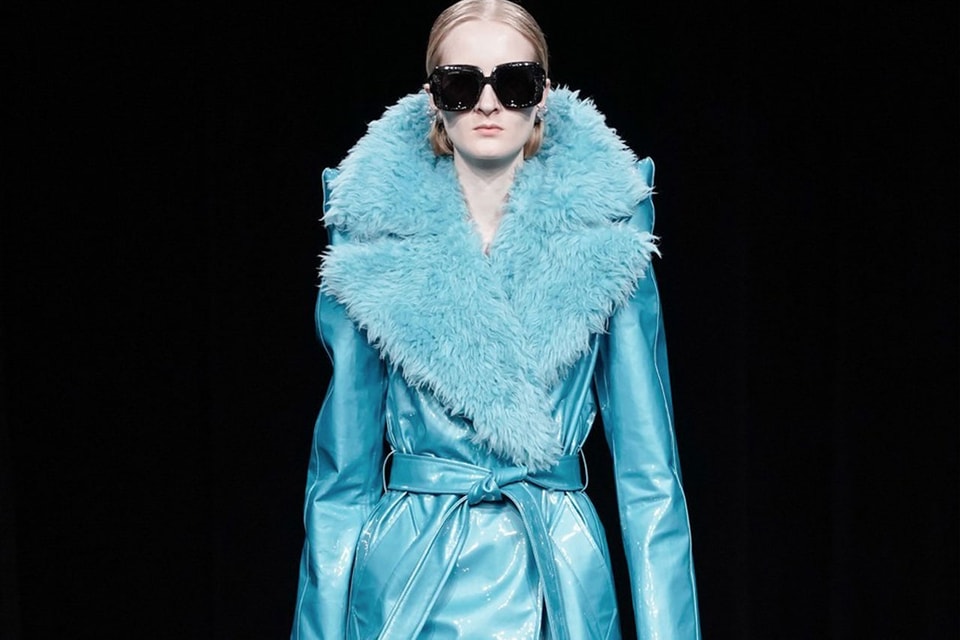 An interesting and exciting thing in the fashion industry is that Alexander McQueen and Balenciaga are now fur Free!!!
NAIROBI DESIGN WEEK
April 3 to April 10 is Nairobi Design Week!
This year's digital Nairobi Design week will showcase Kenyan talent through a series of live-streamed talks and discussions, as well as a curated showcase.
The event will start off with a panel talk, where over 30 creatives will share how they got where they are today and answer questions from the audience.
MODERNISM WEEK
Modernism week will be held April 8th through April 18th!
Some of Palm Springs' most iconic buildings will be opened up to the public through a series of guided tours. Some of the properties included is Frank Sinatra's Twin Palms Estate and Sunnylands (the winter residence of Walter Annenberg).
Visitors will also be able to join a tour of the desert city's first wholly modernist neighborhood called Twin Palms.
FOR MORE AMAZING EVENTS IN APRIL
For more amazing international and cultural events got to the following site:
https://www.dezeen.com/2021/04/01/dezeen-events-guide-april-2021/